A dear friend of mine purchased me a gift that she gave to me a few days before my last FET. The gift included a small ceramic dish with a whimsical tree on it along with 2 worry stones with the words "Inspiration" and "Hope."





She also put the same "Inspiration" stone on Myles' grave. She told me that when she saw the stone with the word "Inspiration" it reminded her of Myles, so she had to buy it for me and for him. She said that the dish with the tree reminded her of life and of course the "Hope" stone was perfect as I'm always in need of hope in my life now.



These stones are meant for "thumbing" and fit perfectly between your thumb and pointer/middle fingers. I took both with me to my FET and rubbed them during the procedure. I love mine and would recommend them as gifts! They can be ordered on-line and are quite inexpensive! These worry stones were made by Dog Star Design artists from northern MN.
Last week I contacted the artists to make a custom stone with Myles name on it to add to the other two in my dish. I also purchased another custom stone for a friend along with two other stones and a dish. I was so happy when less than a week later these items irrived. The artists had made a few extra stones (2 more each of Myles and the other custom stone, a stone with baby feet, and another with "Love"), which they included in the package.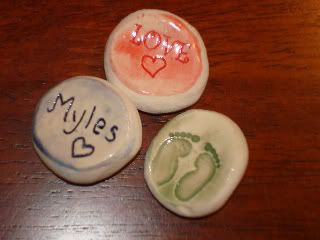 I had told the artist that Myles had died about 6 months ago and she was so sympathetic to our loss. I thought it was so kind of her to include these extra stones in my order to remember Myles. Also, I am so impressed with their work, customer service, prices, and their promptness with shipping. I would highly recommend purchasing gifts for friends and family from these merchants! Please go give them your business!