Six months ago today in the early morning hours Myles died in my arms. I woke up early today and spent the morning thinking about the events that occurred 6 months ago when my heart broke ...

I remember holding my beautiful little baby and begging for time to stand still. I didn't want to let Myles go. I couldn't let Myles go. I tried with all my might to memorize everything about my handsome little man, so I wouldn't forget even the smallest details of his features. I could not believe that things had changed so drastically in just a few hours. I couldn't believe that the sparkle I had seen in Myles' eyes just a few hours earlier was now gone. I couldn't believe that Myles was going to die.

I looked into Myles eyes as he looked into mine and apologized over and over again for having failed him. I told him that I would give my life for his if I could. I told him over and over how much I loved him, how I had dreamed of him for years, how he had made my struggles worth it, and how he had made me complete by making me a mommy. As he looked into my eyes I knew he was trying to tell me that he loved me too!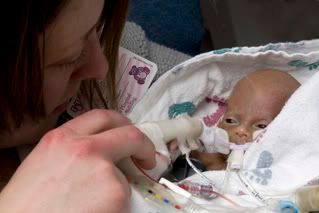 I kissed him and snuggled him.




J and I tried to give Myles a lifetime of love in just a few short hours. We told him how much we loved him and how much we would miss him. We promised to find the courage to face the dark days ahead. We told him that we would do our best to emulate his amazing strength and perseverance. We told him how proud of him we were for what an amazing job he'd done fighting a good fight and that it was okay to go.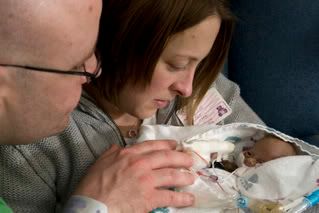 When the time came to remove Myles from life support I repeatedly asked the neonatologist if Myles would pass peacefully. I could not bear to think of my baby in pain. I needed to know that he wouldn't put up a fight, that he'd be comfortable, and that he'd simply fall asleep. The doc promised me that he would do just that. When they removed the breathing tube Myles appeared to fall asleep in my arms. I think he passed within ten minutes. I get chills when I recall feeling the heat leave his body as held him in my lap.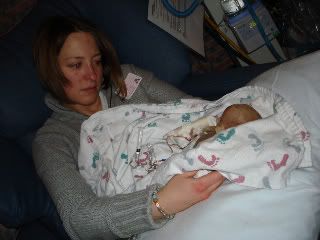 Although I knew Myles was gone, I just couldn't let go of him. I wanted to hold him and never let him go. I remember J telling me that we had to go and that it was time to give Myles to the nurses. I felt paralyzed and unable to move--how could I hand Myles' body to someone and leave him? I knew I was handing over Myles' lifeless body as his spirit had left hours before, but I still couldn't let go. J got the nurse and she took Myles and cradled him lovingly in her arms as Josh pulled me out of the NICU. When I got into the hallway I literally collapsed onto the floor. Josh had to practically pick me up as we walked down the hall to meet our family and friends in the waiting room. When we arrived at the waiting room I fell into my best friend's arms and cried and cried in utter disbelief as she cried with me. Our family and friend's surrounded us, hugged us, and cried and cried with us.

Six months ago we lost our miracle baby. Six months ago our dreams of an amazing life with our son were shattered. Six months ago we left the hospital with empty arms. Six months ago our hearts broke. Six months ago our happy life ended. Six months ago our nightmare began. Six months ago we became parents of a different kind. Six months ago our lives changed forever. Six months ago Myles died.